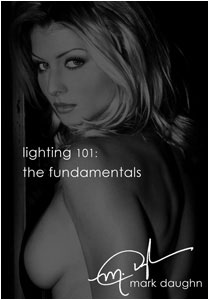 Lighting 101 The Fundamentals
DVD – $49.00 USD
Duration – 1 hour 11 minutes
You can learn the basics of lighting!
Mark Daughn will teach you the breakdown of lighting, giving you all the concepts and information that will allow you to build your own lighting from the ground up.
View the lighting patterns used on all face types and learn when to best utilize each one. Mark will show you how to use light to enhance the shape and form of your models, while still creating a mood with light.
Mark will take you step by step through all of his equipment. You will see exactly what he uses to create his beautiful images.
Learn all the uses of the major lighting modifiers and how and when to use them. You will master the types of light and the correct way to use them in your everyday shooting.